Top 4 Pet-Friendly Flooring Options for Your Furry Friends
30th June 2022
When you're choosing flooring materials for a home you're having built or renovated, you need to consider different key factors. These include:
Durability and longevity of the material
Ease of installation
Maintenance requirements
Interior design style and theme
Additionally, you have to think about your family, your lifestyle, and the activities that will take place in your home.
And when you're factoring in your family, you have to consider your pets, if you have any.
Fortunately, wall-to-wall carpets in Dubai and other flooring options can accommodate both the two-legged and four-legged members of your family. As such,, you won't have a hard time finding the best one that would look great in your home and meet everyone's requirements.
Best Carpets for Families With Pets
Although carpets may not be your first choice for flooring materials if you have dogs or cats (or both), they can be great options as long as you pick the right type.
As such, carpets should be one of your top options for your flooring material.
If you're leaning towards carpets, below are the best types suitable for homes with pets:
● Nylon carpets
This carpet type is highly popular due to its durability and longevity. Its stain-resistant quality makes it an excellent choice for homes with furry family members.
Nylon carpets can resist soil, dirt, mildew, and pet odours. Their stain-blocking feature ensures they stay clean and can withstand the damage caused by heavy foot traffic and the wear and tear of your furry friends.
Nylon carpets are also easy to clean and maintain, even when your pets continuously make a mess on them.
● Wool carpets
If you want something elegant for your home, a wool carpet is a great option.
Wool carpets, such as ROLS Luna wool carpets, provide both humans and pets unmatched comfort and luxury. Moreover, you can have peace of mind that your furry friends are safe and healthy with this floor covering option.
Additionally, this carpet type is not prone to bacteria and dust mite growth. It does not release harmful emissions, making it a safer choice for senior canines and those with weak immune and respiratory systems.
Lastly, wool has a natural stain resistant property. Because of this, you can easily clean the mess your pets may leave on your carpet.
● Olefin carpets
Also known as polypropylene, olefin carpets have the look and feel of wool carpets.
Olefin carpets have shorter and denser fibres made of plastic, making them suitable for high-traffic areas.
This type of floor covering material can resist stains, soil, pilling, moisture, and mildew. It is also easy to clean and doesn't fade quickly.
Because of these properties, olefin carpets can withstand the mess and wear and tear that your pets can constantly leave on your floor.
● Carpet tiles
The most significant benefits carpet tiles offer are that they are easy to install, remove, and replace. This means they are excellent options for your home when you have pets.
Carpet tiles provide all the advantages of conventional carpets but in a piece-by-piece layout. When your pet stains a tile heavily and it can't be cleaned thoroughly, you can remove and replace it quickly.
Like wall-to-wall carpets, carpet tiles come in different materials, colours, and designs. As such, you have various options to choose from.
Other Pet-Friendly Flooring Options
Aside from carpets, there are other pet-friendly flooring options you can consider for your home. These include:
1. Vinyl
Vinyl is one of the most durable and long-lasting flooring materials on the market. This option is also waterproof and scratch-resistant, making them the perfect choice if you have playful dogs or cats that love to scratch surfaces.
Vinyl floors can withstand the wear and tear of heavy traffic of humans and pets. They are easy to clean and maintain as well.
This type of flooring material comes in different patterns and finishes, allowing you to find one that matches your preferences and home's interior design.
2. Tiles
Ceramic and porcelain tiles are perfect for pet owners because they are highly durable that even sharp dog and cat claws can't scratch and damage them.
Glazed ceramic tiles also resist stains and liquid penetration effectively. As such, they won't get blemished or discoloured and damaged from water spills and pet urine.
Aside from glazed ceramic tiles, matte surface tiles are also good alternatives.
3. Bamboo
Lastly, engineered and solid bamboos are also pet-friendly floors since they are durable as well as moisture- and stain-resistant.
This flooring material is also easy to clean and maintain. You can wipe spills and any mess quickly from bamboo surfaces.
Since bamboo flooring is strand-woven, it is scratch-resistant. As such, it holds up best in homes with furry animals.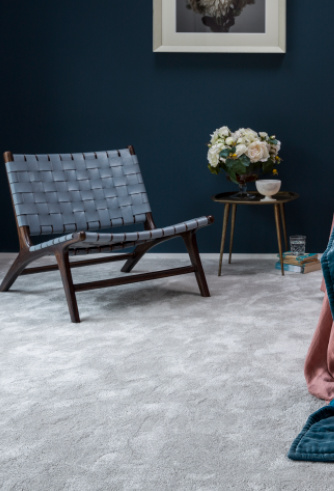 INSPIRATION
Carpets and pets go together, as long as you choose the right type. And even if you opt for other flooring materials, you can still cover them with rugs or carpet tiles to give your home texture and a touch of elegance.
Your carpets and rugs can make it more comfortable for you and your pets to walk, sit, lie, and play on.
Browse through our collection of wall-to-wall carpets and carpet tiles on our Floors page today.
Back to Blog