Redoing Your Stairs? Try These 6 Carpet Ideas to Spruce Up Your Home
30th April 2022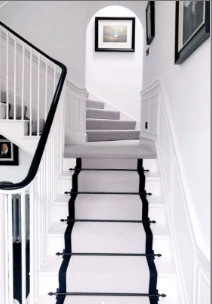 Most people who want to improve or update their homes rarely include their staircase in their plans.
If you share this mindset, you can't be faulted since there aren't many things you can do to enhance the look of your stairs.
However, the right carpet tiles in Dubai can help you design a staircase that stands out and looks incredible.
By installing carpet on your stairs, you'll update its look significantly. You'll add colour, style, and texture to an otherwise regular-looking feature of your home.
Carpets can also protect your stairs, prevent accidents, make them more comfortable to walk on, and dampen noise.
With these in mind, it's advisable to include your stairs in your plans to improve your home interior design.
6 Ways to Smarten Up Your Stairs With Carpets
Below are some ideas to consider for updating and sprucing up your stairs with carpets:
1. Cover the steps with luxurious neutrals.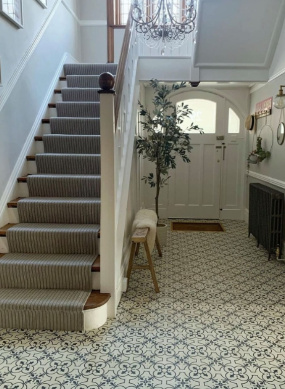 Fully carpeted steps can easily give your staircase a touch of elegance and sophistication. Moreover, they'll feel warm and comfy whenever you walk on them barefoot.
Carpets made with natural fibres, such as sisal and wool, make for plush stair coverings. They are also hard-wearing so they can withstand wear and tear.
Rols Luna wool carpets, in particular, are soft to the touch and reflect light. Because of this, they give stairs a look of glamour and look great in modern contemporary interiors. However, they are durable and can maintain their quality for years.
Regardless of what material you choose, opt for a carpet with a neutral hue, such as beige or cream, since these work well with most wall paint colours.
2. Go for something red.
For the ultimate luxurious stairway, cover the middle of the stairs with a red carpet. This design choice is perfect for homeowners who wish to put their wealth, social status, and elegance on display.
Royal red is your best choice if you want to give your stairs a high-end look. Everyone who walks on it will feel glamorous and important, and may find the experience reminiscent of walking the Oscars red carpet.
3. Make your stairs pop with stripes.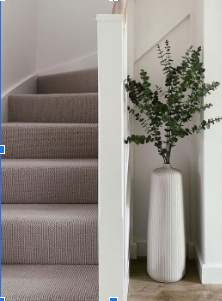 If you want to make your stairs stand out, look for a striped carpet that can give your staircase a flash of colour and brightness.
A striped design will also inject a dose of fun and warmth into an otherwise dull or gloomy-looking staircase.
Opt for bright colours if you want your stairway to grab attention and direct people towards the places you want them to go.
If you have young kids and pets, choose darker striped carpets since those can hide stains and the wear and tear that come with heavy foot traffic and dirty footprints.
Whether you choose a bright, dark, or neutral striped carpet for your stairs, this additional feature can make your stairway look bigger.
4. Play with patterns.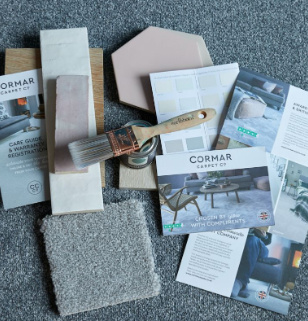 A carpet with an eye-catching pattern for your stairs won't fail to grab the attention of your visitors. It can even turn your staircase into an additional focal point in your home.
A simple geometric pattern of lines, rectangles, and polygons in a charcoal tone can give your stairway a modern yet timeless vibe. Consider painting the railing in black to make your staircase look sleeker and more dramatic.
A carpet with a houndstooth or shepherd's check also works well for stairs in a contemporary or modern home. This design can make your stairway stand out and be a more prominent feature of your house.
The subtle pattern of a houndstooth design can also help conceal wear and tear, making it perfect for high-traffic areas.
If you have white wooden stairs, consider covering them with a carpet with a zig-zag pattern. This design provides an interesting contrasting texture to the light and smooth wood.
The Omexco Loft carpet collection has several geometric designs, patterns, and colours you can choose from, which are perfect for covering stairs.
5. Opt for florals.
If you're a fan of floral patterns, find a carpet with this design for your stairs.
Floral patterns can brighten up any stairwell effortlessly. However, you have to be careful with choosing a design, particularly if your home has a modern or contemporary theme.
To get the most from this carpet design, ensure the walls in your staircase and the hallway are painted plainly. By doing so, you make the floor covering stand out and become the focal point of this part of your home.
Large-scale, sweeping floral patterns can make smaller spaces look and feel bigger. If your stairway is narrow, you would do well to go for these designs.
In terms of colour, deeper tones add depth and drama, while softer pastels give staircases a vintage feel. Consider your interior design style when choosing the right palette.
6. Use carpet tiles.
Finally, you don't have to buy a large carpet and cut them into sections to cover each stair step entirely or its middle section.
You can also use carpet tiles to cover each step or its middle part.
Because of their size, carpet tiles are less expensive and easier to install.
Some adhesive carpet tiles are designed specifically for use on staircases. Because of this, they are quicker to install.
Additionally, carpet tiles do not need a pad or underlayment. They can be installed by sticking adhesive strips on the back of each tile or by putting a layer of adhesive on each step and pressing the tile in place.
You might need more than one tile for each step. However, when they are installed properly, the seams will be invisible.
Betap Vienna floor covering tiles are often used for office and commercial spaces. This collection of products showcases a variety of colours and designs you can choose from to get the right one to cover your stairs.
There are many ways you can spruce up your stairs with carpets. If you're at a loss for ideas, get some inspiration from this post.
Browse through our collection of carpet products for more ideas on updating your stairs.
Back to Blog