For the Love of Fabric: 7 Trends to Watch Out for This 2020
17th February 2020
The textile industry does its best in keeping up with the ever-evolving demands of the market. Therefore, in recent years, not only have we seen a lot of impressive designs, but we have also witnessed the introduction of new materials.
New types of fabric for both commercial and residential purposes were born as solutions to environmental concerns as well as the stringent requirements of architecture and fashion.
It's important to point out as well that there's a revival of interest in traditional fabric designs. Recreating styles from previous eras, as well as updating these styles to appeal to a younger market more effectively, are a must. So, if you are thinking of beautifying your home interior with fabric, get to know the design trends for 2020.
Top 7 Fabric Trends of the Year
Explore the fabric design trends for 2020 and how they'll fit into your vision of a more stylish abode.
1. Jewel-toned velvet
Indeed, in the world of design and style, old is new again. And, no fabric proves this better than jewel-toned velvet, which is an in-demand textile product for clothing and interior decor products.
This high-end fabric has been popular for centuries. It was often used for royal wardrobes, and to this day, you will find well-preserved castles and luxury homes with decor that feature this material.
In your own home, jewel-toned velvet is easy to incorporate into the design by using it on cushion covers, drapes, and the upholstery for accent chairs, couches, and ottomans.
2. Tudor-inspired vine and leaf patterns
Vintage patterns and colors of fabric will never not be on-trend, and for 2020, the Tudor-inspired vine and leaf pattern is deemed perfect for home decorating.
It's perfect for furniture upholstery, mantels, table decor, and many like to use it for lighting fixtures as well. The in-demand colors for fabrics with these patterns are green and gold, espresso, and scarlet, yellow, maroon, tangerine, and black.
3. Different shades of yellow
Although classic blue is the chosen color for 2020, for interior designers and decorators, different shades of yellow are the color of choice for residential spaces. There's no color more cheerful than yellow, and it's also surprisingly versatile in its visual effects.
Different intensities and shades of yellow can contrast neutral hues such as beige, charcoals, and greys. At the same time, they can also make deep jewel tones pop.
At home, you can use fabrics in different shades of yellow for all the accent pieces you own. But, you can also use them in profusion throughout the house, especially if you pair it with white and gold.
4. Animal prints
Zebra, tiger, snake, and leopard fabric prints blew up in popularity in the last three years, and they are not about to leave the building just yet. These remain trendy, especially for clothing.
However, at home, many find that these are ideal for adding interest to interior design. This is why these are some of the prints chosen for center rugs, wall decor, accent chairs, and footrests. Animal prints, likewise, work harmoniously with bright colors, such as red, yellow, orange, gold, and turquoise.
5. Surreal patterns
Patterns and prints that come off looking abstract and surreal are quite trendy, as well. These create an illusion of certain imagery such as the sky, hazy landscapes, and ripples of water.
Surreal patterns for fabrics can create a relaxing interior. Therefore, these are great to use in bedrooms as curtains and bedspreads.
6. Artists' marks
Minimalist artists' marks such as brush strokes, block prints, and geometrical shapes are popular fabric prints for 2020. With the strong attention toward simple and relaxing design, many are expected to choose fabrics that have minimalist aesthetics.
But, even non-minimalists can enjoy this particular design trend for fabrics. Simplistic prints or patterns make lovely layering pieces for everything — from wall art to window and floor treatments, and collection decor (decorative items that are typically grouped together for maximum style).
7. Amanecer or dawn colors
Fabrics in dawn colors bring warmth to home interiors. This is a combination of turquoise, orange, red, espresso, yellow, purple, and pink — typical hues of crevin fabrics. This color combo draws attention wherever it's placed, making it perfect to use in large rooms and any space at home where people often gather.
Amanecer fabrics are an excellent choice for carpets, wall hangings, couch drapes, or blankets.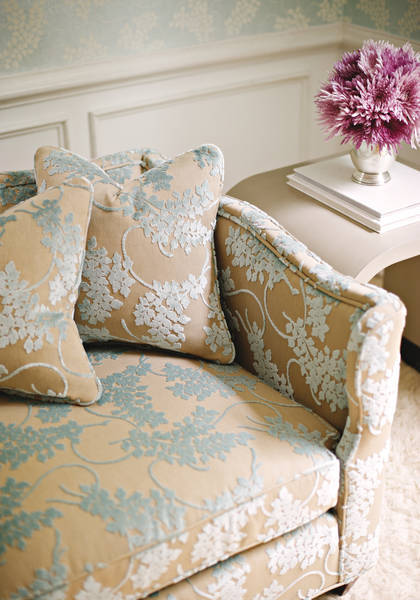 NGC Nafees — Your One-Stop Shop for Gorgeous Fabrics
If upgrading the look of your home is one of your top goals for this year, NGC Nafees is the best source for functionally and stylishly versatile fabrics.
Our rich collection is sourced from different parts of the globe, and we have curated it carefully to provide our clients with only the best.
Explore our online catalog to see the trendy styles and materials listed above, as well as other options that may fit well into your design vision.
Back to Blog