FF&E Talks with NGC Nafees: Crafting customer experience through storytelling and branded interiors
27th October 2023
Whether it's a hotel, retail or F&B space, creating a cohesive experience for customers and guests requires a brand story, interior design, customer service, and technology to all work together. In response, NGC Nafees hosted a panel discussion on "Creating the perfect customer and guest experience through storytelling and branded interiors".
The panelists were Carla Conte from Brand Creative, Firas Alsahin from 4SPACE Design, Paul Bishop from Bishop Design, Riham Farajy from David T'kint Design, Sarah Jane Grant from LXA, and Nadine Kassab from Woods Bagot.
The discussion, moderated by Marina Mrdjen from Intelier, aimed to explore how designers are utilizing FF&E process backed by the latest digital technologies to tell people the story behind the brand.
This was the sixth and final part of the FF&E Talk series, aimed to bring together leading interior
designers for discussions on the challenges, opportunities, and trends in FF&E design across hospitality, commercial, and residential sectors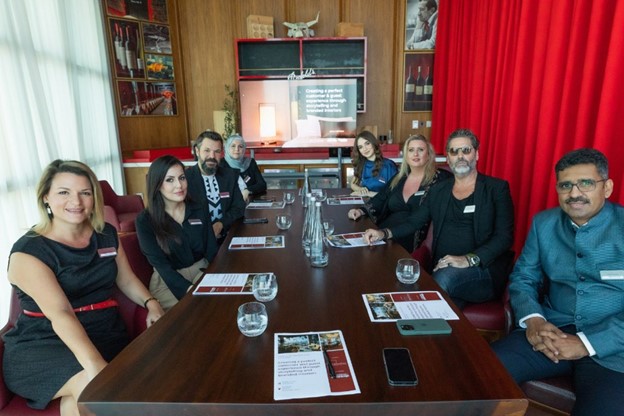 The panelists shared insights from their experiences in designing spaces that stand out and foster unique customer experiences. They emphasized the importance of creativity, storytelling, customisation, and sustainability in FF&E design, and the impact of these factors on a project's success.
Paul Bishop: Creating depth and character in design with FF&E
According to Bishop, founder of Bishop Design, FF&E is one of the only design disciplines that goes on a journey with you. He explains, "This FF&E journey is constant as we move through the project."
By bringing in layers of FF&E, designers can create a maximalist aesthetic that uplifts and adds depth and character to an otherwise flat and mundane space. This is especially important within newly built environments that are common both in the UAE and in Miami, where Bishop recently opened his second studio.
Bishop's latest project, En Fuego, a restaurant design in Atlantis The Palm Dubai, exemplifies this idea, where FF&E was integral to the project. According to Bishop, the use of FF&E was the instigator for everything to follow in the En Fuego project. Without it, there would have been nothing relative in space. He explains, "I think that created the story, that created the narrative that was like the precipice of that journey.
Carla Conte: The importance of customisation in retail design
Conte highlighted the importance of utilising suppliers who possess the capability for customisation, stating that "For us, it's key to be able to create something truly unique for our brands and retailers. We have a branding and graphic design team that creates bespoke patterns and graphic elements, and we aim to integrate them seamlessly into the design. Therefore, it's crucial for us to understand the supplier's capabilities regarding customisation, printing on different surfaces, local sourcing, and production methods. This adds to our selection process for choosing suppliers."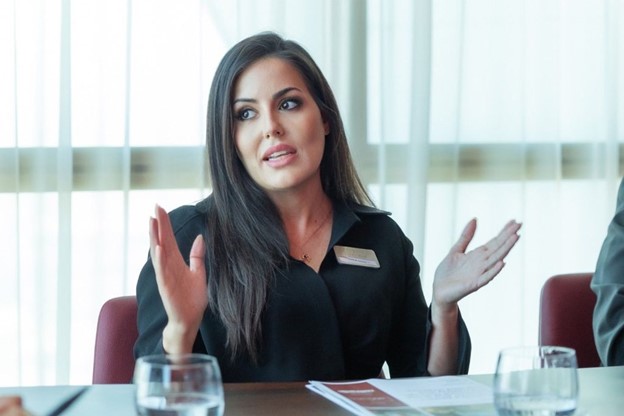 Conte shared her experience working on the IZIL Spa project in Dubai Mall, which involved executing the traditional Moroccan wall surfacing technique known as tadelakt. Working with a local contractor and a specialist company from Morocco presented challenges due to language barriers, but it also provided opportunities for cultural exchange and growth. Carla remarked, "Everybody won at the end of the day with that one. Bringing in those people, even with the cost of hotel and flight, ended up being a lot cheaper and actually resulted in huge cost savings for our clients."
Despite the challenges, the end result was a monolithic and aesthetically pleasing space that authentically captured the client's vision.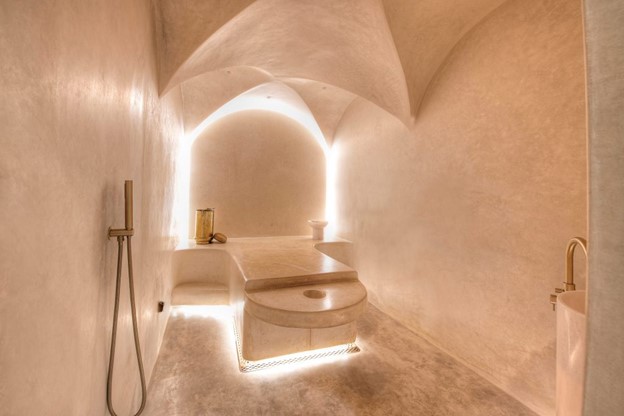 Conte also emphasised the significance of selecting the right FF&E for high-traffic projects that can withstand the test of time, maintenance, and cleaning. "At the end of the day, our design is judged based on the materials we specify for the project. It's crucial to work with professional suppliers that can customise finishes and products that are durable, practical and add value to the project."
Despite the rise of e-commerce, Brand Creative's founder believes that the brick-and-mortar experience is still important for many customers. According to her the journey starts at home, where customers browse a brand's website, and continues in-store, where the experience is brought to life.
"So when a customer enters the store, the expectation is that they've been drawn off their couch and are ready to experience the physical space," she explained.
Firas Alsahin: Designing spaces that stand out by creating unique experiences for customers
Alsahin, the design director of 4SPACE Design, emphasised the importance of maintaining creativity in design while procuring FF&E. He said: "When designing a space, it's important to avoid turning it into a mere shopping list of fancy brands and well-known brand names. The ultimate result may look nice, but the creativity behind it will be missing.
In the Aya Universe project, Firas had to think beyond traditional FF&E design and materials to create a space that looked like it came from a universe beyond our known universe.
He said, "We had to use unique, organic materials instead of relying on suppliers. We incorporated projection and video mapping, interactive screens, fibre optics, and lighting installations that interacted with customers' movements to complete the experience."
Alsahin also highlighted the importance of creating an emotional connection with customers through design storytelling, tactile finishes, FF&E, and digital content. He said: "The experience we create should inspire customers and create a positive gut feeling. That's what we strive for in our designs."
Riham Farajy: The importance of storytelling in design
Farajy, senior project director at David T'kint Design, emphasised the importance of delving deep into a project's requirements and surroundings to derive a genuine story for the design to evolve around.
"Once you start a project, extensive research and a thorough understanding of the brand and surroundings are crucial in creating a design that effectively conveys the intended message to the guest," she said.
Ultimately, Farajy believes that storytelling and design go hand in hand, and designers should approach projects with this in mind. She also emphasised the importance of a successful FF&E selection, adding that design details such as embroidery, furniture selection, and material choices all contribute to creating a cohesive and immersive experience for the guest.
Sarah Jane Grant: Durability and sourcing are key
For Grant, director at LXA, design and FF&E are closely linked, and a brand's DNA is manifested in both the walls, ceilings and functionality of the space, as well as in the FF&E.
Refurbishment is a massive part of what LXA does, and when it comes to the hotels and restaurants that they have repositioned or refurbished, FF&E is always the first thing they look at.
"Every piece of FF&E that's in the space needs to have two uses," she said. "One is it useful for the traveller when they're working, and how can we adapt that to become a home-from-home piece of furniture when they're not working?"
Grant highlights the importance of sustainability in FF&E, noting that it has become a significant part of the hotel experience. As interior designers, it is essential to consider where materials are sourced from and whether they are sustainable. Durability is also a critical factor to consider, as owners want to see a return on their investment.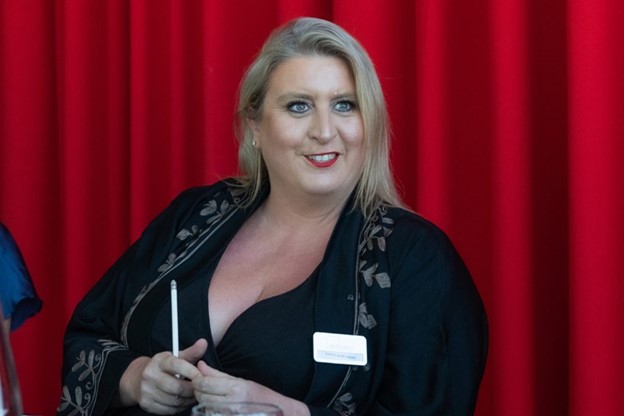 Grant added that the local market has much to offer and that upcycling is becoming more popular. "When a restaurant is refurbished, the materials are removed from that space," she explained. "How can that be used for another project? How can that be upcycled? We're seeing a lot of that too."
Nadine Kassab: Creating immersive experiences through strong narratives
Kassab, a designer from Woods Bagot, highlighted the importance of creating a strong narrative that guests can pick up on as soon as they walk into a space.
She explained: "You really want them to understand what you're trying to tell them. You want them to get the hint of the story, to get the hint of the brand identity. And you need to make sure that all of the design elements within the space speak to that story."
For 25hours Dubai One Central Hotel, she said FF&E was a crucial part of the design, not just a way of "filling the space". Every piece was carefully chosen to contribute to the hotel's
overall story, and guests could feel the connection between the furniture and the brand.
Kassab also highlighted the importance of locally sourcing accessories and artworks, working with local artists to ensure that all the pieces come together in a way that makes sense for Dubai and the brand.
"You want them to go and touch the pieces and then have a moment to realise that all of this is locally sourced and that layering of the space has meaning behind it, right? Whether it was just a cushion, whether it's the curtains, the tassels on the chairs, they all complete the story," she added.
James Prathap: The role of FF&E cannot be overstated
James Prathap, general manager at NGC Nafees, reflected on the panel discussion. He said the role of FF&E in enhancing the user experience cannot be overstated.
"Throughout the discussion, it was evident that FF&E is not just about soft furnishings, but encompasses a wide range of materials and finishes that work together to create a cohesive and functional space," Prathap explained.
The panelists also stressed the importance of understanding the functional requirements of a space and designing FF&E accordingly.
The final panel discussion took place at the SLS Dubai Hotel & Residences, a project that features some of the key products from NGC's portfolio of wall coverings, fabrics and flooring.
Back to Blog