Residential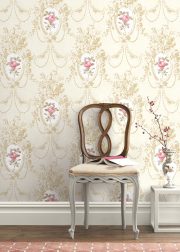 Pretty florals and classical designs come together to form the
Vintage Charm wallpaper
collection
. Traditional in nature
,
the floral designs have a fresh outlook with a delicate feminine color palette. Climbing floral trails and well
-
manicured bouquets are coordinated with classic designs of damask and stripes. Draped beads and fleur-de-lis add a French elegance to the collection. The selection of genteel design and
color, including vintage
brick wallpaper
patterns,
create a soothing secret garden for the home.